An Update on the Recent DeSoto County Tornado
Really? You've got to be kidding. Yeah, that's the rating the National Weather Service gave the tornado—F2. Like I already said: That sumbitch sounded like an F4 Phantom on afterburner. Actually, according to the Fujita scale, they're probably correct, but with that said, I don't EVER want to see a F3, 4, or 5.
I've included some photos of the damage. You can see them on my Facebook page at https://www.facebook.com/RickDeStefanisAuthor/.
Janet and I are counting our blessings. It could have been much worse. Volunteers from all over the country and our own state have come in by the scores to help with the cleanup, and a massive one it is. I want to thank two groups in particular who worked to help cutup and haul the big oaks and cedars that were downed on our place.
https://www.namb.net/southern-baptist-disaster-relief/
Although there remains much to be done, they did work that would have cost in the thousands, because debris removal is not covered by insurance unless it's actually on a structure. Thank you to these two groups, my friends, and my neighbors who have helped.
I have been at odds with Northcentral Power Co-Op over some oaks they skinned back to nothing along the power lines on the front of the place. However, I will give them a hardy "Job Well Done" on their reconstruction efforts after the tornado. After seeing that almost every power line for miles was on the ground with snapped powerpoles, we felt it would be at least a week before we got our power back. Three and a half days after the tornado struck the lights came back on and I'm almost certain I could hear the angels somewhere singing Allaluia. We turned off the generator and had heat at last.
Thank you Northcentral.     
And then there was the insurance company. Outstanding, no haggle service from SafeCo and Liberty Mutual to replace the roof, the gutters, gates, fences and the huge rootball hole in the drive, plus the cost of removing the tree that hit the house.
Not to forget our county workers. They have been at it now for two weeks daylight to dark cleaning up the mess, clearing the roads and hauling away debris. These guys have worked tirelessly. Special thanks go to them and our county administrators.
https://desotocountyms.gov/419/Fire-and-Emergency-Management-Agency
And last but not least: amidst all the wreckage I am still planning to have The Gomorrah Principle out in an audio edition through ACX on Amazon Audible in the next two weeks. If audio books are your thing, watch for the announcement here and on Facebook.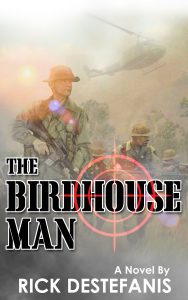 As for the next novel: The Birdhouse Man, it's coming soon, but the timeline has been stretched because of the tornado. It may be another month or two. I will post it on this web-site and Facebook when it's published.
Please send me your comments. I would love to hear from you.